Acne Treatment for Women: This Simple Remedy will Give You a Smooth Face in No Time
Today, I thought of sharing with you guys a simple acne treatment I chanced upon some years back that has kept my face smooth and free of acne ever since.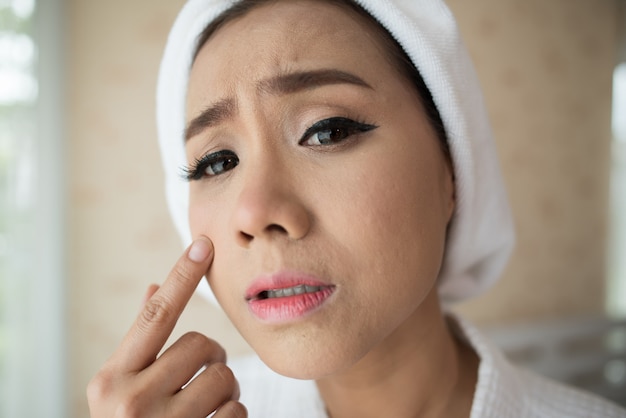 I used to have a really bad case of acne in my teens. It was so bad that I got those red patches or should I say acne scars all over my face from using too many products. Yea, like every other acne 'sufferer', I was desperate for a cure and used just about every product recommended by friends.
The result? – A face filled with scars from several botched attempts. It turned out several of the acne treatments recommended to me were just guess works by friends who, though meant well, ended up making my case worse than it was.
After several trials and errors, I finally got an acne treatment that worked wonders in not just clearing off my acnes, but also eliminating the scars as well.
I didn't just stumble on this treatment by chance though. I got fed up with the too many failed attempts at clearing my acne and decided to get to the root cause of my little problems.
I took to learning all I could about acne so I could stop, or at worse reduce the severity of my acne breakout.
Related: 8 Frequently Overlooked Ways to Get Rid of Pimples in No Time
Finding Out What Acne Is
Acne is a skin blemish that comes about when your skin pores get clogged by oil, dirt, or dead skin cells. It mostly occurs on the face, but could also appear on your neck, chest, shoulder, or back.
Acne could be pimples, whiteheads, blackheads, or red scars (acne scars) and could be recurrent.
What Causes Acne
You could have a smooth skin one day and develop acne the next due to any of the following factors:
Genetics: This is actually the main cause of acne as an estimated 70 – 80% of all acne causes come from this. You're likely to suffer acne if your parents suffered it.
If you have excess oil sebum production, especially around your face, neck, and shoulder regions, this could clog your skin, resulting in a breakout.
Acne could also be caused by Propioni bacterium acne. Although this bacteria naturally lives on the skin, its growth could go out of control, resulting in an acne breakout.
Acne could also be caused by hormones as its been found people with an excess production of the Androgen hormone are at risk of an acne breakout.
Acne could come about as a result of your skin pores getting clogged by dead skin cells.
Certain medications, especially ones that contain iodides or bromides could also lead to an acne breakout.
Stress could also place you at risk of developing acne.
Related: 9 Beauty Tips for Glowing Skin All Girls Should Know
Acne Treatment for Women that Works All the Time
One beautiful thing about this acne treatment is that its quite easy to learn and can very easily be incorporated into your daily lifestyle or beauty regime as I find maintaining one is the best way to keep acne away permanently.
This acne treatment is a 3-step plan and each step is very important to your success and shouldn't be missed.
Step 1
Wet your face using either lukewarm or cool water. This step takes less than a minute, but sets the stage for the next.
Step 2
Exfoliate using either a good over-the-counter bought exfoliation cream or one you prepare yourself from brown sugar and coconut oil.
Gently scrub at your face, neck, shoulder, and chest region in a circular motion for a minute or two, then rinse off using lukewarm water.
Most people usually stop their acne treatment at this point, especially if theirs is a mild case of it and is mainly caused by excess oil production or clogged skin pores.
Another benefit of exfoliating is that it gives you a glowing skin, which we all crave.
If you're to end your acne treatment here, you should ensure two things:
Your acne is the mild type.
You exfoliate regularly; at least once a week, but no more than twice weekly.
 Step 3

The Honey and Cinnamon Face Mask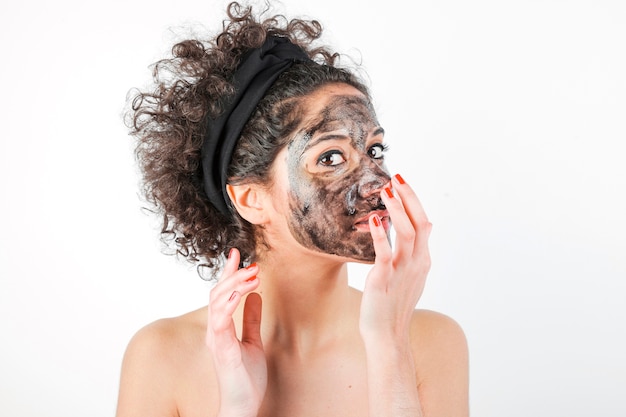 So, now that your pores are all cleared and open, now would be the time to proceed to the last stage in our acne treatment.
This stage involves making a face mask from honey and cinnamon.
Honey is antibacterial (which is a great treatment for acne caused by bacteria) and anti-inflammatory (to bring relief from the swollen spots on your face) with great healing and exfoliating properties.
It has also been known to fade scars over time, which makes it a good option for acne scars.
Cinnamon is also antibacterial and when combined with honey, makes for a really potent acne treatment.
Here's how you go about making the honey and cinnamon face mask:
In a bowl, place 3 tablespoons of honey and three quarter to one tablespoon of cinnamon.
Stir both until well mixed and then apply to affected parts
Leave this face mask for 10-15 minutes and then rinse off.
Repeat once a day until the acne is completely cleared off.
Acne Scar Tretment
If you already have acne scars, here's an equally potent remedy you can use to clear it off:
Acne Scar Recipe
2 Teaspoons Manuka Honey
3 Drops Vitamin E Oil
3 Drops Roship Essential Oil
Combine all in a small bowl and spread all over affected skin.
Let it sit for ten minutes and then rinse off.
Do this twice daily until the scars fade off completely.
There you have it, a simple acne treatment that cures acne and another that clears acne scars. These treatments have worked amazingly well in my case and the cases of friends I introduced these recipe to and I'm sure they will yours too.
Tags: acne treatment for women, helpful scar removal and acne treatment for women of colour